Pursue your dreams. Express your uniqueness, Tell your own story.

IF YOU LISTEN, YOUR SHOES WILL TELL YOU EVERYTHING YOU NEED TO KNOW TO SUCCEED IN LIFE AND BUSINESS.
Eme's conversation with her no-nonsense, mouthy, smarmy shoes and other inspiring stories are funny and insightful. These modern day parables will entertain but you will also be inspired to see profound principles in the most mundane objects – from ripped jeans to broke-down cars; pimp my ride to plastic surgery.
You will enjoy seeing the world through her eyes as she speaks with humor, wisdom and simplicity. Her reflections on change, courage and creativity will encourage you to pursue your dreams and leave your own footprints in the sands of time.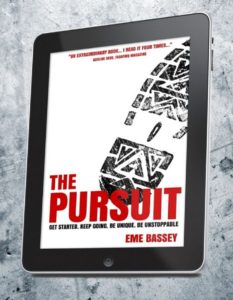 Reviews
"Creative, Stimulating, Inspiring. Eme will make you giggle, pause for thought or jump for joy. I pray that you get infected with the passion virus for change that created this collection!!" -Jonathan Oloyede
"Words… they are the foundations of thought. They shape and make, for better or for worse. Through her writing, Eme uses words in an
entertaining, vividly exciting way as an instrument for injecting encouragement, motivation and passion, pushing you to reach for success!" – Darren Thomas Ekho! Magazine
"In our quest for self discovery and success, it is always refreshing to have someone like Eme who acts like a cheerleader, a teammate and a coach all rolled in one."
-Dozie David Atueyi Writer/Producer "Rhythm of the Black Man"
This is an extraordinary book. I read it 4 times… Adeline Sede, CEO Fabafriq magazine
Available on Amazon